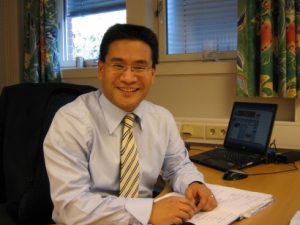 Glenn Agung Hole is a Norwegian citizen who lives in the river city of Drammen, approximately 45 km south of Oslo, the capital of Norway. He is a management philosopher with a degree in Doctor of Philosophy in Management (dr.philos); moreover, he has degrees in Master of Business Administration (MBA), an Advanced Diploma in Management Systems (DMS) and a Diplom in Supply Chain Management (Dip. SCM). All his education has been accomplished in addition to ordinary work in the daytime. For 14 years, he has been a part-time student.
Glenn is the founder and CEO of Procuratio Consulting and a part-time Associate Professor @Molde University College in Molde, Norway.
Over the past 15 years, he has worked as a management consultant and interim manager in various companies.
All his academic dissertations have been practical and have been from business cases from Norwegian companies:
Doctor of Philosophy in Management, PhD theses on an own developed management model, TIPS (Technology, Intellectual capital, Process and Strategy).
Master of Business Administration dissertation was written for the Norwegian Energy company Statkraft
Advanced Diploma in Management was written for Orkla Media-/Edda Media on the business case Nabolaget-/Lokal Guiden.
A diploma in Supply Chain Management was written for the National School Fruit Organization.
Originally from Indonesia, he was born in the capital of Indonesia, Djakarta, on 26th February 1977. Shortly after his birth, he was left in an orphanage. In August 1977, Dr Hole was adopted by a Norwegian couple in Aalesund at the age of only six months old, a great city on the Norwest coast of Norway.
He is married, has two children, and has lived in eastern Norway for 20 years. He has a great interest in haute cuisine and culture. He has travelled in all European countries, been in many parts of the USA / Canada, and travelled in Russia, Georgia and some parts of Asia.
He has always been fascinated by how people do their work. As a young boy, he worked on the family farm and helped his grandfather and father to put the pile pole into the ground. His father was driving the tractor in front with the pile pole on the silovans. He and his grandfather picked the pile pole from the silosvans and put it in the ground. By working together with the same goal, they worked much more quickly than they would have worked individually.
The same lesson is transferable to any organisation.  Dr. Hole learned early in his childhood that by binding people, processes and technology together, one could improve efficiency in the work. In the aforementioned story, he learned to work together towards the same goal and use of technology; in this case, a tractor represented the technology, and they worked faster than by using a wheelbarrow.  This was the start of the business process improvement career of Dr. Hole.
He started his career in 1995 with his first job as a group manager in the electrical department of a Supermarket. For the last 15 years, he has worked with business process improvements and working with binding people, processes and technology to secure competitive advantages for organizations.  The three factors, people, process and technology are also the precursor to the TIPS model. The TIPS model is a way of binding Technology, Intellectual Capital (people), process, and strategy together.
He has experience as chairman and board member of several boards of directors and from senior executive positions. He is used to working with institutional and private investors. Most of his work experience has been through management for hire, project positions etc. 
He believes that a leader's six primary tasks are:
Inspire

Leaders who recognize and reward employees' achievements can inspire commitment from their subordinates. These leaders publicly praise others for their performance, understand what motivates others to perform at their best and provide tangible rewards for significant organizational achievements.

Leading employees

Leaders with good skills in directing and motivating people know how to interact with staff in ways that motivate them. They delegate to employees effectively, broaden employee opportunities, act reasonably toward direct reports and hire talented people for their teams.

Strategic planning

This skill involves translating vision into realistic business strategies. Leaders who are highly competent in this area typically articulate long-term objectives and strategies, develop plans that balance long-term goals with immediate needs, update plans to reflect changing circumstances and develop plans that contain contingencies for future changes.

Change Management

Skilled leaders have developed effective strategies for facilitating organizational change. Such a leader views change positively, adapts plans as necessary, manages others' resistance to change, adapts to the changing external pressures facing the organization and involves others in the design and implementation of change. 

Employee development

A skilled leader in employee development usually coaches employees to improve performance, provides guidance, encourages employees to develop careers and ensures employees understand their roles. This is one of the areas that he has worked a lot with. He has implemented mentor programs and coaching processes for several companies.

Self-awareness

This skill involves recognizing personal limits and strengths. Self-aware leaders admit personal mistakes, learn from mistakes, seek ongoing feedback and know themselves well. If you can sharpen your skills in these areas, you'll improve your ability to address complex future challenges—and set yourself apart. In 1999 Glenn Hole got his mentor Mr Bård Mikkelsen, former President & CEO of Statkraft.  He had Mr Mikkelsen as a mentor until 2010. In 1999 its was very few who had a mentor in Norway.

Self-development and assessment have been an essential part of the self-awareness of Glenn Hole. Therefore, he wanted to have a mentor who could challenge him to go further and reach new goals. In 1999, when he started to be a mentee, he had no education, and after two years, he started his academic education.
His USP (Unique selling proposition)
A highly educated strategist who excels at identifying and solving problems and has saved public school for more than 120.000 working hours each year
He has significant experience within:
General management
Turnaround and Restructuring with a focus on digitalisation
Business improvement and commercial development
Project and change management based on developing and implementing organizational programs that cultural change and Lean management.
Coaching and mentoring of leaders
Glenn was in February 2017 named one of the top 100 young leaders in Norway by  Assessit.
A mini interview with Glenn, only in Norwegian. http://assessit.no/glenn-hole/
Linkedin: https://www.linkedin.com/in/glennhole
Website in Norwegian: http://www.glennhole.wordpress.com
Corporate website: http://procuratio.no/   Corporate website: SustainForte
Tips-Model website: https://tipsmodel.org/ 
Email: glenn(a)procuratio.no
Cell Phone +47 941 59 289